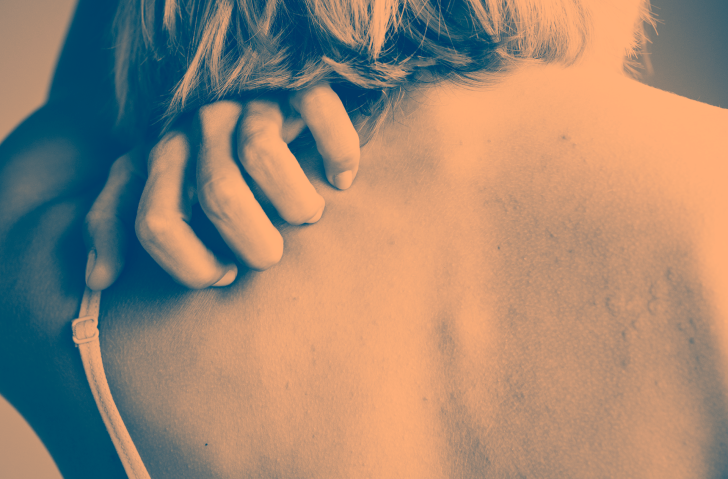 09 Jul

Mrs N Sterling

Mrs N Sterling, Sheffield

Age 47

I have suffered with psoriasis since the age of 17, when I started to drink and smoke. I have it on my arms, legs, torso and in my hair. I have many triggers and it is with me most of the time, but most flare ups are especially when I'm ill, stressed, in the winter, on medication, come into contact with chemical cleaning, beauty products and also when I eat wheat, dairy or sugar.

The condition has severely impacted my life and at times when the flares have been bad its held me back going for jobs, relationships and participating in leisure activities. I have often felt embarrassed when my scalp is flaring up and it appears I have horrendous dandruff, so I tend to now avoid wearing dark colours. In hot weather I would cover my arms and legs which actually exacerbates the problem. It cracks and bleeds and is very sore which affects what I can wear. It also makes me feel less attractive and confident with my partner.

When my children were little I couldn't take them swimming as people stare and think it's contagious. I also feel it makes them uncomfortable too so I've avoided doing things like that.

Throughout my life I have tried many treatments, steroid creams and changed my diet to try and combat the condition.
T gel shampoo has been effective but very drying for my hair. Alphosly shampoo is better as it leaves the hair soft as conditioners make the scalp flare up.

Most medicated creams only bring temporary relief & it ends up flaring up even more after use. Elocon has been useful for tiny face patches – but use sparingly as it thins the skin.

The only thing that has been effective on the body is light therapy. However, the skin needs to clear & tan fully or it will come straight back. If you have enough exposure to heal and tan then I can have months of relief.

I have had light treatment at hospital on three separate occasions. I quickly learnt the importance of taking it really slowly as even just moving at the prescribed pace I burnt. It's easy to underestimate just how strong light therapy is.

The process getting referred for treatment can be a long one though as anyone who has been through the process will know. It has taken me a few weeks to see a doctor and then three months plus to actually be referred to a dermatologist. It is then usually a couple of weeks until a place becomes available in the treatment room, all the time you are living with your psoriasis. Once the treatment commences its between 6-8 weeks attending hospital three times per week

I came across Anytime Sunbeds by pure accident and was actually inquiring about hiring a sunbed for my recent flare up. I was not aware of home light therapy and only thought this kind of treatment was available threw hospital. I hired a canopy for eight weeks which I actually ended up extending an extra week as I had a few stubborn patches on my legs.

I must admit to being nervous at the beginning of the treatment, but Paul who brought and set up the unit was a pleasure to deal with. The user demonstration was extremely thorough which was welcome as even though I have had light treatment before and understand the importance of sticking to the recommended timings, people who have not had light treatment before may not realise just how important this is.

I can confirm the UV narrowband lamp is the same as that used in Hospital, so caution is needed as they are incredibly strong but do the job like no other treatment I have tried.

I commenced my treatment time at 15 seconds and proceeded with extreme caution having a treatment Monday, Wednesday, Friday and giving my skin a break at the week end. After each treatment I had a shower and moisturised, which is necessary as it does make dry your skin out. I gradually built my treatment times, increasing by 10 seconds each time, up to a final two minute's 50 seconds which I found was the maximum time I could take before I started to burn. If at any time I slightly burnt I just decreased the next treatment by 10 seconds and on occasions missed a treatment.

The UV lamp totally cleared my skin which felt fabulous and I shall look forward to hiring again. I've had psoriasis for 30 years and this is the quickest and easiest way to clear my skin, no nasty creams or pills, no time consuming inconvenient trips into hospital. Thank you so much Paul. Looking forward to seeing you next time I need to clear my skin.